EXPAND YOUR LIMITS
WITH CLOUD COVERAGE
If the fan burns out or if a power surge decides to pay a visit to your email server, how effective can your business operate? Since your business relies on email communication that's readily available and reliable, that email server in your equipment closet could be the most likely single point of failure in your entire IT infrastructure.
Take the next step to equipment independence with Hosted Exchange. Sending your email system into the cloud allows your business communications to flow anytime from anywhere.
Moving to the cloud is more than just about getting from point A to point B.
We could tell you that our Hosted Exchange service is the greatest thing ever for your business and that it will exceed all of your requirements and that you will never have a need for any other email service ever again. But honestly, the way we earn your business is by not only proving it before you are our customer, but also every day thereafter. Take a look at the available configurations and then consider which of your users will be best suited for each option. Then contact us for a free evaluation to see how Hosted Exchange can benefit your business!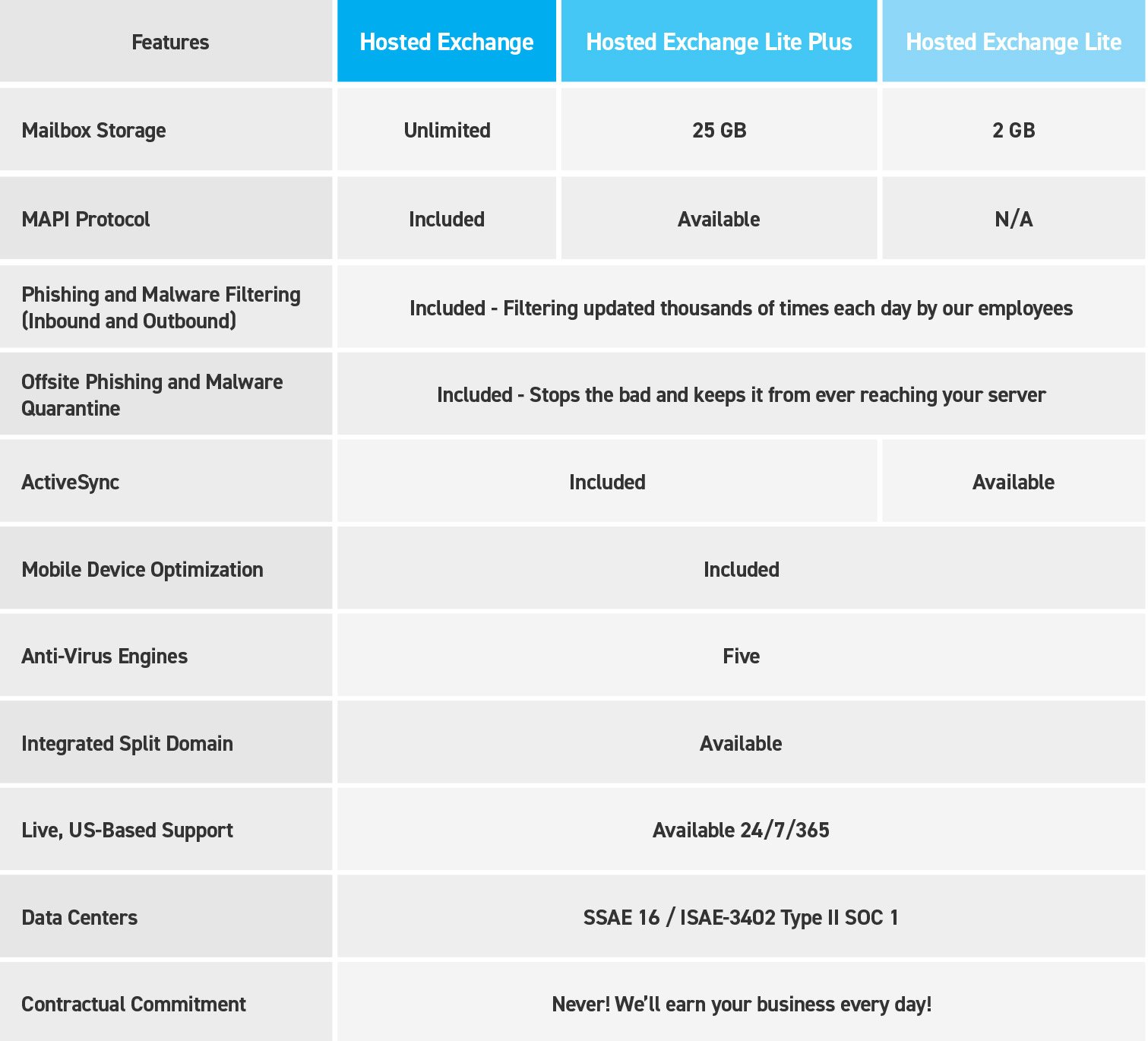 • Monthly per-mailbox fee
• Simple Web-based access
• Unlimited mailbox storage
• Outlook® license included
• ActiveSync® support for all of your smart phones and tablets
• Advanced Email Security phishing and malware protection included
• Shared mailboxes, public folders, in-place archiving
• Presence notification, calendar sharing, scheduling assistant
• Email archiving (50 GB per user)
• Journaling and compliance options available
• Live spam statistics and zerohour alerts
• Choice of data center location per mailbox (Switzerland or US)
• Continuous update cycle
• Scaled Lite or Lite Plus options available
• Migration assistance
• 24/7/365 support
• No contractual commitments required now or later