Phone and Voice Services
Finally – VoIP for small businesses
Features that you'll use , the ability to take on your company's workload  and Low-cost and easy to install
Hosted VoIP Office Phone Systems
Experience the Power of Cloud-based UC
A hosted PBX is a full-featured Unified Communications (UC) solution designed for SMBs. Now you can take advantage of powerful UC features, including presence, instant messaging, conferencing and mobility. See for yourself how hosted PBX simplifies the way your business communicates, anywhere, anytime.
All Features Included for Every User
Choosing a cloud-based solution doesn't mean you have to sacrifice the features and flexibility of a full-scale UC solution. With hosted PBX, you get a full contact center, mobility, call control, and collaboration tools included with every user – for the same price. A phone system solution that delivers the customer experience your business demands at price point you can afford.
UC Delivered Your Way
Not all cloud-based solutions are created equal. Most hosted phone systems are one-size-fits-all products that offer little or no room for flexibility. And stacked pricing means you pay more for "add-on" features that are business-critical. It's time to move to an affordable hosted solution built to fit your specific business needs. Switchvox and Switchvox Cloud use the same powerful software. Regardless of your deployment requirements – on-premises, cloud, or a hybrid of the two – you get all the same features, for every user without complicated pricing models or the stress of managing a complex phone system.
Find Out About GreenLink Networks Cloud Phone Services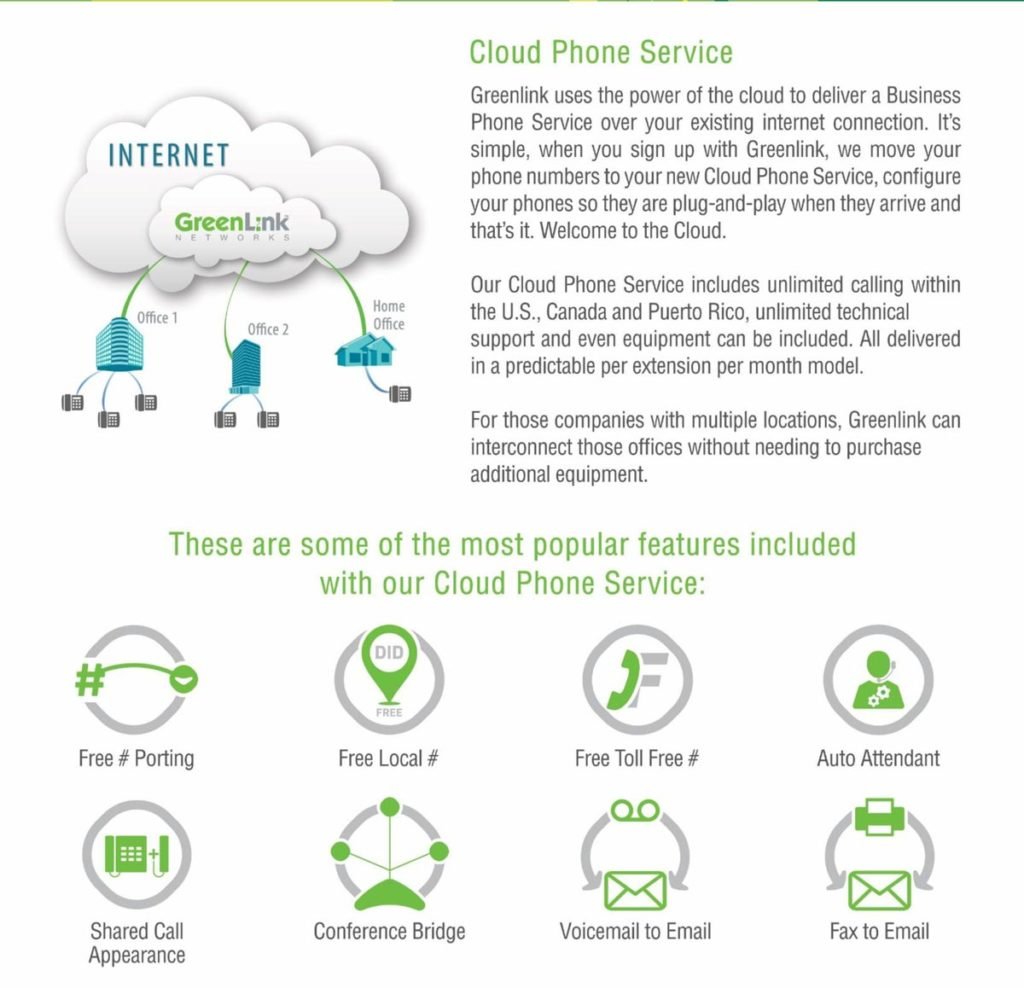 On-Premise Phone Systems
On-Premises Unified Communication Systems More Power, More Value
Your business needs scalability, control, and customization from a phone system that is loaded with advanced Unified Communication features, but still affordable. On-Premises delivers every time with a wide range of appliances that provide support for Unified Communications solutions and provides the necessary power and connectivity for any SMB.
On-Premise appliances come in multiple sizes so that you have a powerful, VoIP phone system built to fit your requirements, today – with the flexibility to scale for future growth. As your business needs change, you need be able to seamlessly move to a larger system, or migrate to a cloud-based solution.
More About On-Premise Phone Systems
Future-proof your business communications and rest easy knowing changes to your VoIP system will be hassle – free with minimal associated costs and network changes.
Digium's Switchvox gives your company a robust UC feature set without the hassle and expense of complex licensing models. All Switchvox features are included for every user! No longer do you have to worry about the added expense of feature licenses if one of your staff members needs more functionality. Have a newly promoted employee who now needs to record calls? Great, just click a button to turn it on!
Converged Phones
Bring Your Own Device has become an important way to work in today's offices. Converged Phones allows your users to connect their mobile phone, home phone, or other office phone to their work extension. Once this connection is made, they can seamlessly transfer calls from one device to the other, record directly from their cell or home phone and much more! With Converged Phones, no longer are your users tethered to their desk to communicate.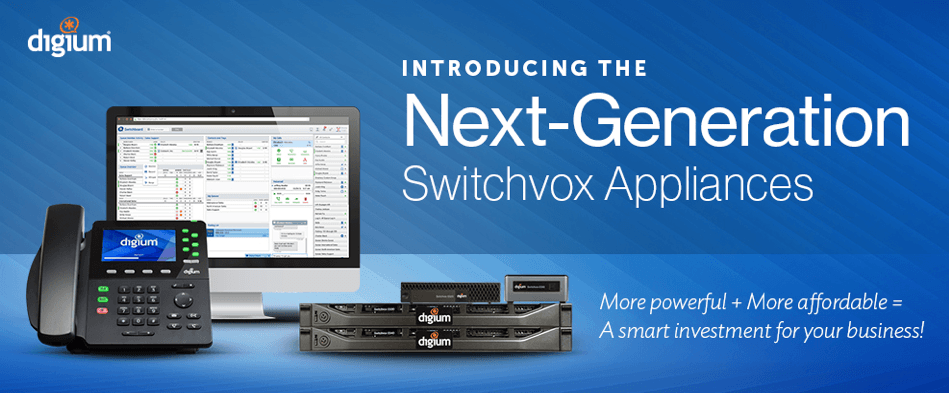 Digium®, Inc., the Asterisk® Company, created and is the innovative force behind Asterisk, the most widely used open source telephony software. Since its founding in 1999 by Mark Spencer, Digium has become the open source alternative to proprietary communication providers, with offerings that cost as much as 80 percent less. Digium offers Asterisk software free to the open source community and offers Switchvox, Digium's Unified Communications solution to power a broad family of products for small, medium and large businesses. The company's product line includes a wide range of telephony hardware and software to enable resellers and customers to implement turnkey VoIP systems or to design their own custom communications solutions. At Digium, we're changing the way businesses communicate.

Switchvox On-Premises IP PBX
Swtchvox Cloud Hosted VoIP
Switchvox Mobility
SIP Trunking
IP Phones
Telephony Cards for Asterisk
VoIP Gateways
SIP Trunking
What is SIP Trunking?
SIP, or Session Initiation Protocol, is the standard communications protocol for voice and video in a Unified Communications (UC) solution across a data network. A SIP trunk replaces the need for traditional analog, T1-based Public Switched Telephone Network (PSTN) connections with termination instead provided over a company's public or private Internet connection through a SIP provider.
The Benefits of SIP Trunking
Often referred to as Internet Telephony Service Providers (ITSP), and provides PSTN service on a per minute or channelized pricing model.
SIP Trunking uses VoIP to take advantage of shared lines, such as a company's Internet connection, to allow more flexibility in communications
Cost savings and communications benefits of SIP trunking are substantial
No hardware, wiring, or circuit boxes to maintain for connection to the PSTN. Reducing multiple phone lines into a single point of entry
VoIP increases reliability of services by providing a level of redundancy
A phone number, or Direct Inward Dialing number (DID), is less expensive when purchased with a SIP Trunk.
When system failures and emergencies occur, SIP Trunking providers can reroute services to a redundant data line or forward the PBX to mobile phones to keep your business up and running.
Consultations / Site Surveys
KML Consultations / Site Survey Includes:
Collaborating with your providers on the requirements of the wireless network, including the areas of an office, a warehouse, or meeting spaces.
Take inventory of potential blockage material such as walls and clusters of metal file cabinets and producing a heat map of network interference elements such as neighboring networks.
Designing a wireless network that circumvents potential trouble spots (for new locations) or reconfiguring the network to address existing concerns (for established but underperforming networks).
Providing network recommendations to the key decision makers.