IT Support and Computer Repair
Fixed Fee and Hourly Support
IntelleSUITE The Smart Choice For Business IT
IntelleBACKUP

– Data Backup and Business Continuity
Automated online backup to keep your business safe
What is IntelleBACKUP?
IntelleBACKUP is the brand name for KML's data replication, restoration and disaster recovery service. It is a secure, reliable and hands-off (to you) method of securing and protecting your business data. Only 6% of companies survive longer than 2 years after a loss of data, KML IntelleBACKUP can prevent the loss of your data!
Available in both a Premium and Basic version (distinctions below).
IntelleBACKUP includes:
Replication of your data and databases to a local professional grade storage device nightly. This is your business information: CRM system, customer data, patient data, etc.
Snapshots of your server state on a periodic basis saved to the same local professional grade storage device nightly. This information reduces the time needed to restore your server in the event of a catastrophic failure
Everything stored on the NAS device is replicated to secure cloud storage (compliant with various regulations)
All data can be encrypted for compliance with various regulations (HIPAA, ITAR, etc.) and general confidentiality
KML supplies a professional grade storage device (Network Attached Storage – NAS) with payment of deposit and maintains it. This ensures a reliable and secure location for you important data.
Restoration of data and snapshots from the file level (i.e. one file) to a complete restoration of everything

Premium – all costs for restoration are included with the monthly cost
Basic – all costs for restoration are charged on a time and materials basis

KML monitors the nightly success of all backups and receives alerts of success or failure. In the event of a failure, the issue is investigated immediately and remediated as quickly as possible with or without notification (usually without notification unless serious – but your call)
IntelleMANAGE – Server and Network Management and Monitoring
The Intelligent way to manage your technology
At KML, we are committed to our mission to partner with each of our clients to provide needs- specific, intelligent technology products, services and solutions that support the success and growth of your business.
More about IntelleMANAGE
Our newest, most comprehensive, collaborative and cost-effective approach to the pro-active management of your company's information technology infrastructures, KML's IntelleMANAGE provides the bench strength and skills of a fully staffed IT department to ensure that your technology serves your business effectively today and tomorrow.
Working in partnership with you, our savvy team of IT specialists will custom-design an unparalleled, needs-specific package of intelligent technology products, services and solutions to support the continued success and growth of your business.
KML's IntelleMANAGE offers you:
Peace of mind

 – your systems are monitored 24/7

Less downtime

 – we identify and fix issues before they cause problems

Fewer disruptions

 – we provide most services remotely or overnight

Predictable budgeting

 – all-inclusive, all-you-can-use, flat-rate IT services that include hardware and software.

Hourly Support/ Block Time 

– the more block hours you buy, the larger the discount.

IntelleMANAGE vCIO

 – KML designed the vCIO process to work one-on-one with your team to understand your goals, business methods, and current information systems capabilities.
More about IntelleMANAGE vCIO
The virtual Chief Information Officer (vCIO) program is designed to take the partnership between KML and a small business to a new level. Though all of our customers are assigned an account manager, a vCIO is a more intense involvement in the technology and business affairs of the partner.
What is distinct about the KML vCIO program is that there is an entire team, not just one individual, assigned to complete research, give advice and guide the interaction between KML and the partner. While you will be assigned a primary vCIO, others will get involved at various times.
A Virtual CIO Understands Both Business and Technology
Our vCIO consultants bring the all-important "operating experience" of a Managed Service Provider providing 24×7 support for more than 700 clients and thousands of devices. As a Managed Service Provider, unlike "pure" IT consulting companies, we understand the "operational" characteristics of multiple IT platforms, monitoring tools, and devices.  Our IT consulting services are typically used by companies that:
Need to quickly scale IT infrastructure
Are required to implement cost reductive measures
Are faced with significant capital expenditures and legacy equipment problems
Are confronting global expansion challenges
Need to adhere to changing compliance regulations
Need to merge multiple IT operating environments
Need better alignment between business objectives and IT infrastructure requirements
Need to improve business processes and productivity
At KML, we provide forward-thinking information systems consulting focused on leveraging technology to increase business performance. Our vCIO process is designed to work one-on-one with your team to understand your goals, business methods, and current information systems capabilities.
KML Definition of a vCIO
The vCIO possesses a blend of technical and business experience intended to have application in guiding the internal processes of the company and how they may be able to be made more efficient with technology. The vCIO assists in maintaining the infrastructure but also provides more forward-looking services such as a technology roadmap and identification of opportunities to make the business more efficient through processes and procedures which can be assisted through technology.
THE VCIO IS RESPONSIBLE FOR:
Objectives – Link technology to business objectives
Roadmap – Create a technology roadmap for the business based on the growth and goals of the organization
Budget – Assist the management team in creating a realistic technology budget based on the business objectives
Technology Trends – Staying abreast of trends and how they might impact the business objectives
IT Projects –A positive and firm grasp of IT project planning and management
IT Platforms – Familiar with a broad range of IT platforms and technologies and how they may apply to the business
Business Process Workflow – Understanding how these are implemented so they may be tied to an appropriate technology. Also able to suggest improvements in process and workflow
Meeting Attendance – At the behest of senior management, attend designated meeting to listen to and advise on technology issues
Planning – Be involved at project planning from the start
THE VCIO IS:
Agile – Able to move fast and quickly change direction as needed
Flexible – Understands that there are many technical approaches to every issue
IT Savvy – Will understand the impact of different technologies and the possible disruptions of something newly introduced
A Leader – Someone who understands leadership and management
Experienced – Have experience in business, technology and management of programs and people
Customer Oriented – Will always put the customer and the business first and make technology bend to process and not bend process to technology.
Engagement
A vCIO engagement begins with a detailed paid assessment of the total technology picture:
Infrastructure

Server
Network
Security
Internet
Telephone
Mobile

Printer setup
Application environment
Business processes.
This will require interaction with various members of staff as well as contact with technology providers and take a minimum of four days to complete.
The deliverable for this assessment is a complete report of findings including recommendations for improvement in certain areas.
If a KML IntelleMANAGE client at the time of assessment, much of the information will be readily available and decrease the time and cost of the assessment.  The deliverable will remain the same.
Managed services from KML Computer Services provide you with more reliable performance and more predictable expenses. That means you get more value from the technology you've already invested in, while actually reducing the total costs of IT problems and the resulting downtime.
Remote Work Solutions
Due to things like Quarantine/Social Distancing, hurricanes and life, in general, more and more employers are finding it necessary for team members to work from home. Whether this is all the time, part-time or even just temporary, KML has you covered with remote access
KML will create a remote plan for your team members and set it in motion expeditiously and efficiently so the whole team is up and running and ready to collaborate remotely.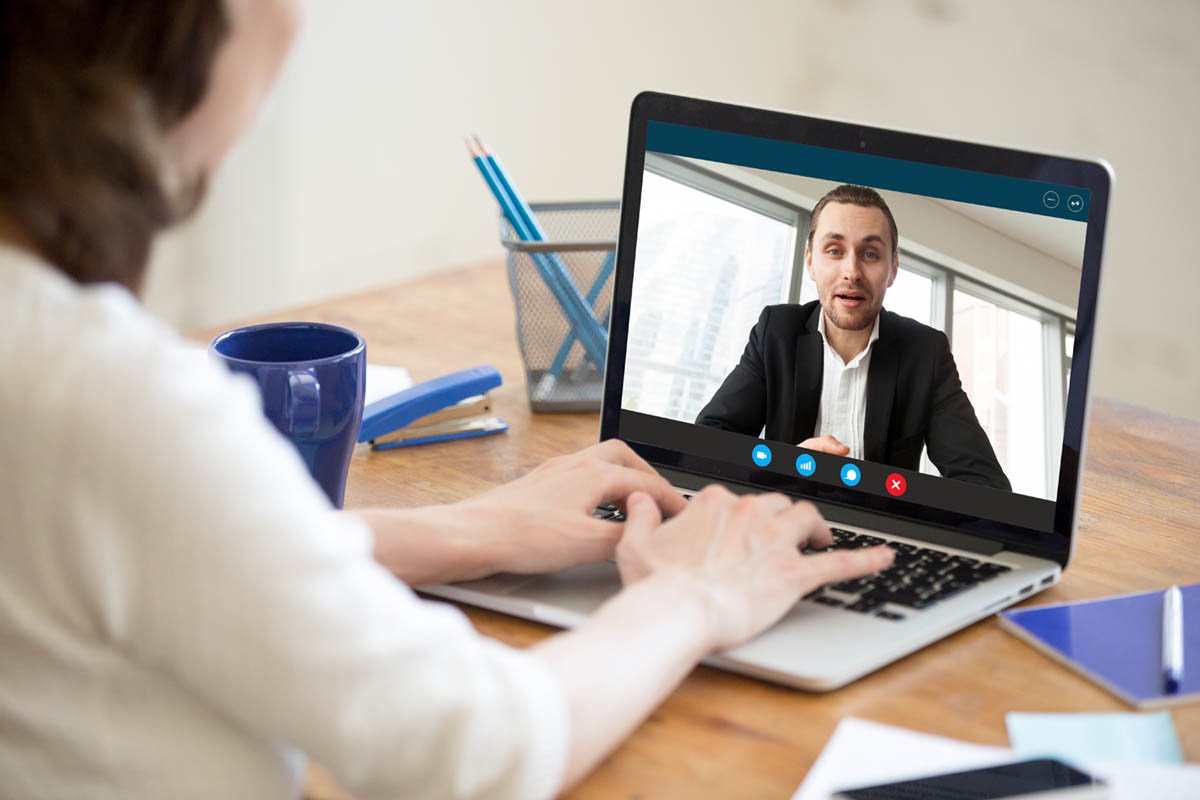 IntelleMAIL
While email is an amazing business communication tool and a source of massive amounts of data, it can also be an easy target for SPAM, viruses, phishing, and other malware that can harm your business and cost you money.
KML Computer Services will help you enhance email as a communication tool and preserve the information it contains so that your email is an asset instead of a liability.
KML IntelleMAIL products and services provide safe, secure and professional solutions for all of your business email needs. IntelleMAIL makes it easy for you to choose the best solution for your business. Whether it is a package or a la cart, we have everything you need right here.
IntelleMAIL HS (Hosted Exchange)
Eliminate in-house servers and the expense of managing them with IntelleMAIL Hosted Exchange. It is secure and gives you control of your email system without complications.
More about IntelleMAIL HS
Eliminate in-house servers and the expense of managing them with IntelleMAIL Hosted Exchange. It is secure and gives you control of your email system without complications.
All of this for one low monthly fee and per-mailbox fee.
Unlimited storage
The best spam and malware protection in the business and it is built right in.
Includes IntelleMAIL Filter
Eliminate the hassles of in-house servers.
IntelleMAIL Hosted Exchange gives you control of your email system without the complications and expense of managing your own servers. For a low monthly, per-mailbox fee, you get unlimited storage with the best spam and malware protection in the business built right in.
Benefits
Simple portal management for routing, aliases, groups, users, and many other client configuration settings
Mobile device support for iOS, Android, Windows Phone and BlackBerry
Fully-functional Outlook Web App access
Live spam statistics and zero-hour alerts
More about IntelleMAIL EE
Don't take privacy for granted …
IntelleMAIL EE truly has brought next-generation encryption to your business today.
With an increase in regulatory pressures, identity theft, and highly publicized security breaches in the media, companies that do not encrypt emails containing sensitive information are at risk of regulatory fines, lawsuits, negative PR and a loss of company intellectual property.
As a business, you strive to build relationships built on trust with your customers and business partners and therefore, cannot afford to risk such potential damages to your brand images. Email encryption is an important piece of the security puzzle: it protects your company, your customers and business partners.
With IntelleMAIL EE, your message remains encrypted all the way to the recipient.
Encryption made easy with IntelleMAIL EE.
IntelleMAIL Email Encryption also ensures protection of confidential information and helps maintain regulatory compliance, such as HIPAA regulations and other privacy standards.
No more excuses.
Considering that IntelleMAIL Email Encryption requires  minimal  overhead, eliminates message or key storage and has the lowest volume of helpdesk calls in the industry, you can't go wrong! Best of all, there's no hardware or software to manage and you can cancel anytime for any reason. What are you waiting for?

IntelleMAIL RADAR
RADAR is a hosted email archiving service that operates in conjunction with your existing IT network to ensure the protection, preservation, and continuous operation of email communication for your business.
More about IIntelleMAIL RADAR
RADAR is a hosted email archiving service that operates in conjunction with your existing IT network to ensure the protection, preservation, and continuous operation of email communication for your business. With RADAR, users have on-demand email access anywhere and anytime.
Today, email is the core business communication channel. Since its inception, email has evolved from a simple intra-office messaging tool to the information and communication backbone for companies of all sizes.
As reliance on email grows, so does the need to ensure its uninterrupted operation and to preserve the information it contains. Excessive data loads, the constant pounding of spam and viruses, unplanned service interruptions, and ad-hoc needs to locate pertinent information within the flood of content present constant challenges for business owners and their staff.
RADAR solves these problems. It is easily deployed for any size business to ensure that electronic communication is automatically preserved for intelligent discovery, rapid recovery, and continuous access from any location.
Product Highlights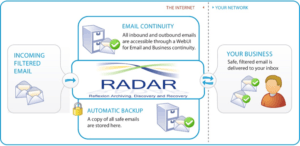 "In-The-Cloud" Gateway
Delivered as a hosted service, RADAR is easy to deploy and operates seamlessly as a gateway to your existing IT network.
Comprehensive Archive
All inbound and outbound email and attachments are indexed, encrypted, and stored in real time for rapid access.
eDiscovery Tools
With powerful email discovery tools, including our exclusive DeepLink™ technology, users can instantly search the archive for any email or attachment, with very fast results.
Email Recovery
Customized email "packaging" allows users to recover their search results from the active archive back to their inbox.
Email Continuity
An integrated webmail client enables users to access the RADAR archive 24×7 from any location to ensure continued access to email during power failures or in-house server outages.
IntelleMAIL Filter – (Spam and Virus Protection)
With IntelleMAIL Filter, you can keep your inbox and your servers free from spam and viruses. No expensive equipment to install and best of all, no more junkmail or malicious messages in your inbox.
More about IntelleMAIL Filter
Spam and Virus Protection Made Easy
With IntelleMAIL Filter, you can keep your inbox and your servers free from spam and viruses. No expensive equipment to install and best of all, no more junkmail or malicious messages in your inbox. That is protection made simple.
*Included with Hosted Exchange.
Inbound and outbound email protection.
IntelleMAIL Filter system is continually updated thousands of times per day to ensure protection from even the newest Spammer tricks and tactics. It works on multiple platforms and utilizes proprietary detection systems, four virus-scanning engines, more than 60 filtering techniques, and wave-front detection to rid inbound and outbound email from spam, worms and viruses as well as protocol-based vulnerabilities.
Daily held spam reports.
Perhaps one of our most popular features is our Held Spam Reports. This detailed report can be enabled per end user and provides 100% visibility of all mail that has been held as spam or "junk."

Cloud Services and Managed Hosting
When you need help with organizing your business and want to protect your computers from outside threats but you're on a strict budget, KML Computer Services' cloud services can help.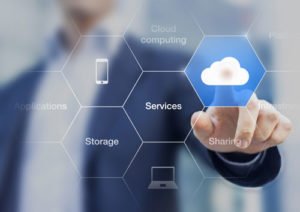 Because our services are fully scalable and available for a flat-rate fee, you'll never have to worry about an IT cost you can't cover. With no additional IT staff needed and no initial capital investment required, you can now direct your cash to more important, business growing prospects, and leave the little things to us.
When you sign up for KML Computer Services' professional cloud services, you'll find:
Security – Your business's vital systems and data will be protected from loss, and even theft
Service and Support – We'll always be around 24/7 to serve your needs, and we'll monitor  your systems to prevent any problems in the first place
Data protection – with our built in data backup and secure data storage, you'll never have to worry about losing your data in the event of any disaster
Tools you can use – When you need to control and manage your systems, we give you easy to use, intuitive tools to help you along the way
Talk to KML Computer Services today about making these cloud services work for you.
Wired and Wireless Networks​


We provide top-rated network and content security, as well as secure access products that share intelligence and work together to form a cooperative fabric. Our unique security fabric combines Security Processors, an intuitive operating system, and applied threat intelligence to give you proven security, exceptional performance, and better visibility and control–while providing easier administration.
Our flagship enterprise firewall platform, FortiGate, is available in a wide range of sizes and form factors to fit any environment and provides a broad array of next-generation security and networking functions. Complementary products can be deployed with a FortiGate to enable a simplified, end-to-end security infrastructure covering: